LinkSys Compact ProConnect 4-Port KVM Switch
Features
Control up to four Computers from a Single Keyboard, Monitor, and Mouse
Switch Instantly Between PCs
Save Hundreds of Dollars in Equipment and Energy Costs
Serves as a Quick Docking Station for Notebook Computers
Supports an Incredible 1920 x 1440 Maximum Screen Resolution
Full Plug & Play Monitor Support
Caps Lock, Num. Lock, and Scroll Lock Settings Are Automatically Recalled by each PC
Runs with Most PS/2 and Windows 95 Keyboards*
Compatible with Virtually All Major PS/2 Mice*
No Software Required
Free Technical Support
One Year Warranty

Specs
Standards : PS/2
Protocol : Microsoft PS/2 Protocol
Model Number:

2-Port Switch: PS2KVM2
4-Port Switch : PS2KVM4

Ports:

Keyboard:

1 PS/2 female – Console
4 PS/2 female – CPU

Mouse:

1 PS/2 female – Console
4 PS/2 female – CPU

Video:

1 HDB-15 female – Console
4 HDB-15 male – CPU Ports

LED Indicators:

4-Port Switch: PC1, PC2, PC3, PC4

Resolution Max :1920 x 1440 at 85Hz, DDC2B
Scan Interval : 3 seconds
Read More
Linksys ProConnect KVM Switches allow you to instantly toggle between four PS/2-equipped desktop or notebook PCs while using a single monitor, PS/2 keyboard, and PS/2 mouse. Switch between four PCs with the press of a button.
Plug your note-book PC into the KVM Switch and control it from your desktop PCs monitor, keyboard, and mouse.
Built to last and ready to run directly out of the box, Linksys ProConnect Compact KVM Switches eliminate cable swapping while saving you desktop space and hundreds of dollars of hardware costs.

Because they don't use the software, the ProConnect Compact KVM Switches are compatible with all major desktop and notebook computers.
They are the perfect choice for the home, the office, or anywhere else you manage multiple PCs.
Belkin OmniView E Series 4-Port KVM Switch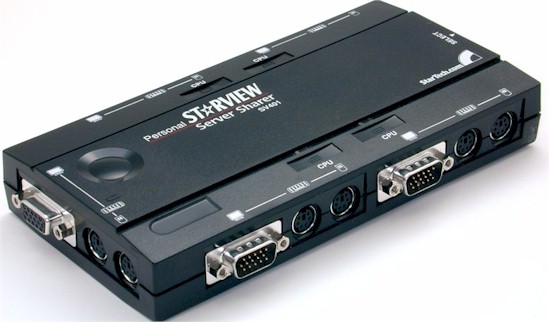 Features:
Control up to 4 computers from one keyboard, mouse and monitor
Does not include cables, click here for a full list of compatible cables
Works only with PS/2 connections
High Resolution up to 2048 X 1536 (up to 85Hz)
No additional power supply required
10-second AutoScan function
Keyboard and PS/2 emulations for error-free boot-up
Features hot key switching and manual push-button port selection
PC99 color-coded connectors for matching cables to appropriate ports quickly and easily
LED indicators
Two years warranty
Free Technical Support
Also available:
Bundled with four 6ft Cables

That include the switch and 4 sets of 6 foot cables

Bundled with four 10ft Cables

That include the switch and 4 sets of 10 foot cables.

Bundled with four 15ft Cables

That include the switch and 4 sets of 15 foot cables.
Cables
There is no cables included with this switch. You have three choices of cables:-
Belkin OmniView Seperate Cables

Available in various lengths

Belkin OmniView 6ft Cables
Belkin OmniView 10ft Cables
Belkin OmniView 15ft Cables
Belkin OmniView 20ft Cables
Belkin OmniView 30ft Cables

Belkin OmniView Pro 3-in-1 Cables

Available in various lengths

Belkin OmniView Pro 6ft Cables
Belkin OmniView Pro 10ft Cables
Belkin OmniView Pro 15ft Cables
Belkin OmniView Pro 25ft Cables

Premium KVM Cables 3-in-1

Available in various lengths

Premium KVM 6ft Cables
Premium KVM 10ft Cables
Premium KVM 15ft Cables
Premium KVM 25ft Cables
Power
This switch does not include a power supply. No power supply is required to run the switch unless the distance between any machine and the switch exceed 35 foot
Rack-Mounting
This switch is not rack-mountable
Extender
The console on this switch (keyboard, mouse and monitor) can be extended so you can use the switch
from up to 500 feet away. That can be done using a CAT5 KVM Extender, which uses a single CAT5 patch cable (or CAT5e) to extend the console.
We recommend either of the following models
Belkin OmniView CAT5 KVM Extender
Aten MasterView CAT5 KVM Extender
Or check out our full selection of CAT5 KVM Extenders
Platform Support
Mac Support

This switch support MAC computers with ADB keyboard and mouse connection.

You would need  Belkin OmniView MAC Adapter

SUN Support

This switch support SUN computers with Mini DIN8 keyboard and mouse connection and 13W3 Monitor connection.

You would need  Belkin OmniView SUN Adapter
Operating Systems Support
The Belkin OmniView E-Series KVM Switch support any operating system so long as the machine has standard
PS/2 keyboard and PS/2 mouse connection and SVGA monitor connection. Support include – but not limited to:-
Windows - Any Microsoft Windows Operating System like 2000, XP, NT, 95, 98
Linux - any Linux build (see condition above).
Unix - any Unix Build  (see condition above).
Novell - any edition (see condition above).
Switching Methods
You can switch between computers using either of the following methods:-
Cascading
The Belkin OmniView E-Series is not Cascadeable and not expandable. It cannot be cascaded with any other Belkin OmniView Model.
StarTech StarView 1 X 4 KVM Switch (PS/2 Only)
Features:
PCs can be connected and removed without powering down.
Can be put into scan mode that automatically switches between active PCs.
220 MHz VGA bandwidth allows resolutions up to 1920×1440 @ 60 Hz refresh.
Can be switched by hot-key commands or by pressing front panel buttons.
LEDs indicate port selection.
Supports Logitech Mouseman, and MS Intellimouse (Ver 2.0 and earlier).
Completely operating system independent. No software or drivers required
Power-free.
Emulates keyboard and mouse while booting so PCs can boot unattended.
1-year Warranty
Applications:
Allows 1 console to control 4 computers
Requires (8) 6 DIN Male to Male cables to connect PS/2 keyboard and mouse ports
Requires (4) High Density DB15 Male to Female cables to connect VGA monitor ports
Read more
The StarTech.com Personal StarView SV401 is a 4 port KVM switch that allows 4 computers with PS/2 style keyboard and mouse connections to be controlled from 1 monitor, keyboard, and mouse.
This saves the user space by only needing one control console for both computers, and saves the time spent moving between the PCs.
Ports are switched by pressing a button on the unit, or by a simple keyboard hot-key sequence.
The StarView prevents bootup errors by providing keyboard and mouse emulation to the non-selected PC.
It's ultra low cost, super small size, and high 1920×1440 resolution display capability make this switch perfect for test tabs, server rooms, or power users who want fast, easy control of 4 PCs.